Welcome to My Century Old Farmhouse Christmas Tour.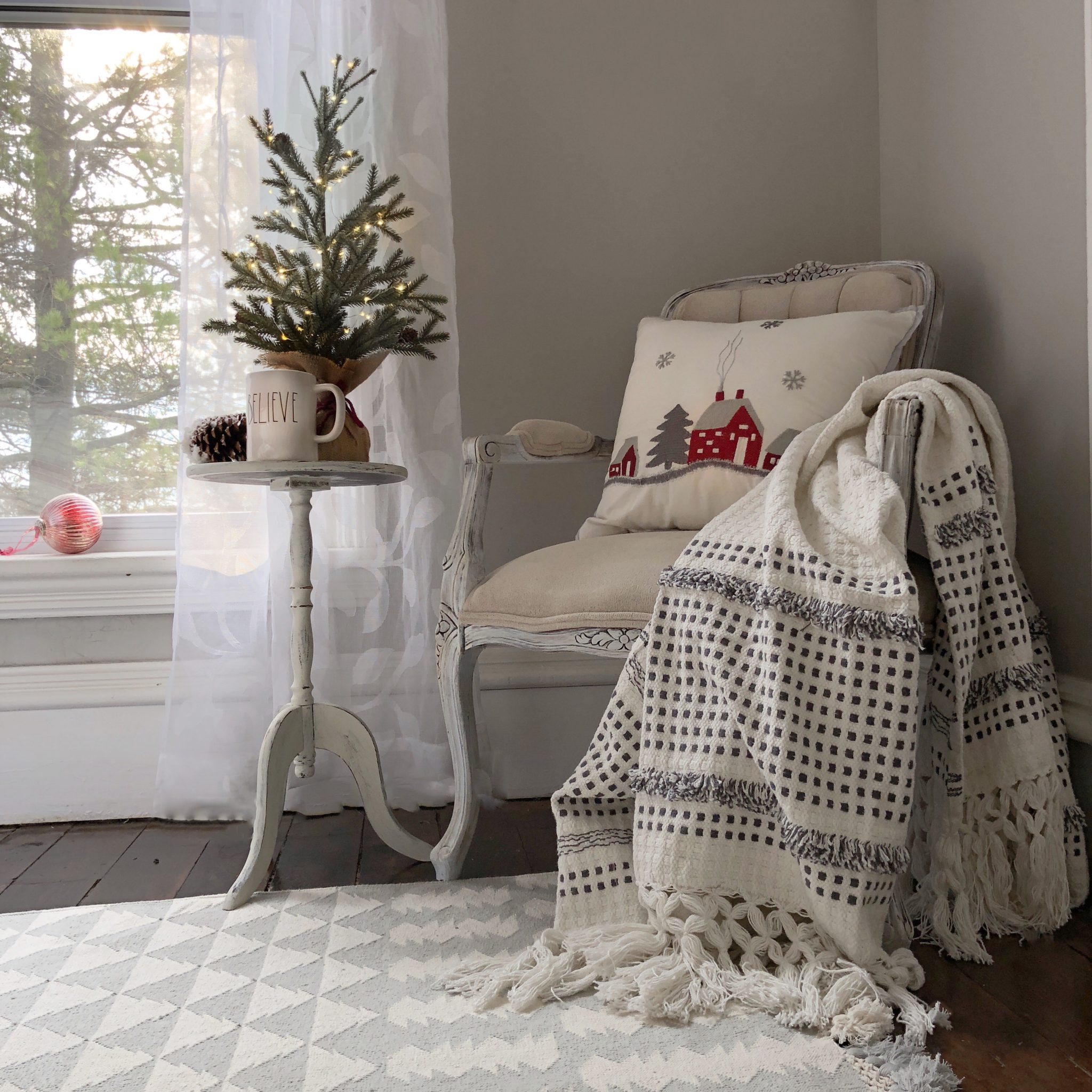 Thanks so much for stopping by our Merry and Magical Holiday Tour.  I'm so excited to be a part of this wonderful group of ladies. So many inspiring and beautiful Christmas homes.  If you've come to me from the wonderfully talented Jodie https://www.thedesigntwins.com/welcome-colorful-holiday-home-tour/ thanks for coming by. I just love her use of colour!  Be sure to check out Sarah https://graceinmyspace.com/cozy-christmas-home-tour/ to see her Merry and Magical Tour as well.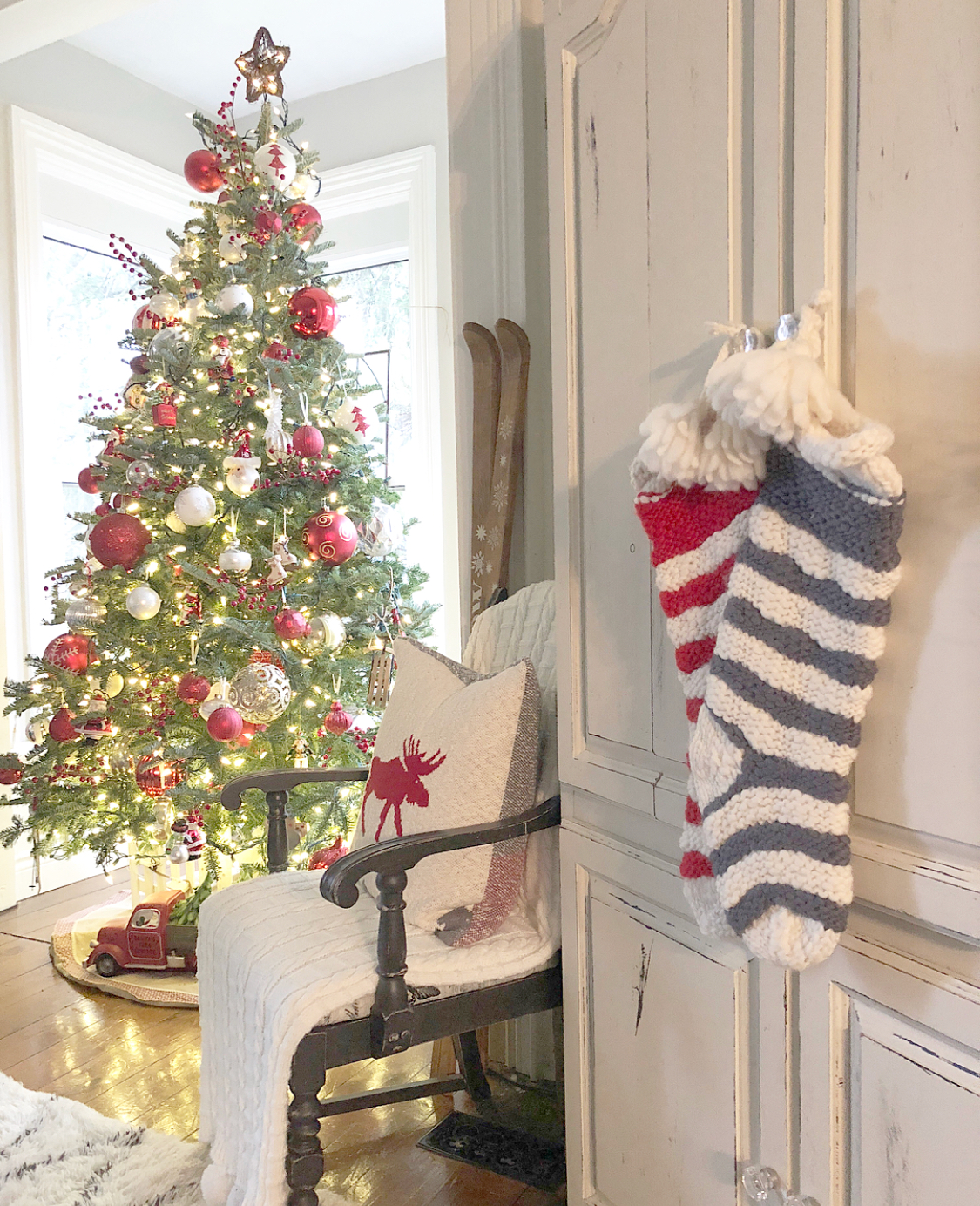 Living in a Century Old Farmhouse at Christmas time brings out the traditional girl in me. The old plank floors, high ceilings, and just the worn out charm all lends itself to decorating for the season.
So when I decorate for the holidays, my mindset is…  Bring on the red, silver and gold!  I do like to keep it pretty simple around here though, and I love incorporating natural elements – and, of course, some fluffy throws and pillows! It all adds texture and warmth to this old Farmhouse.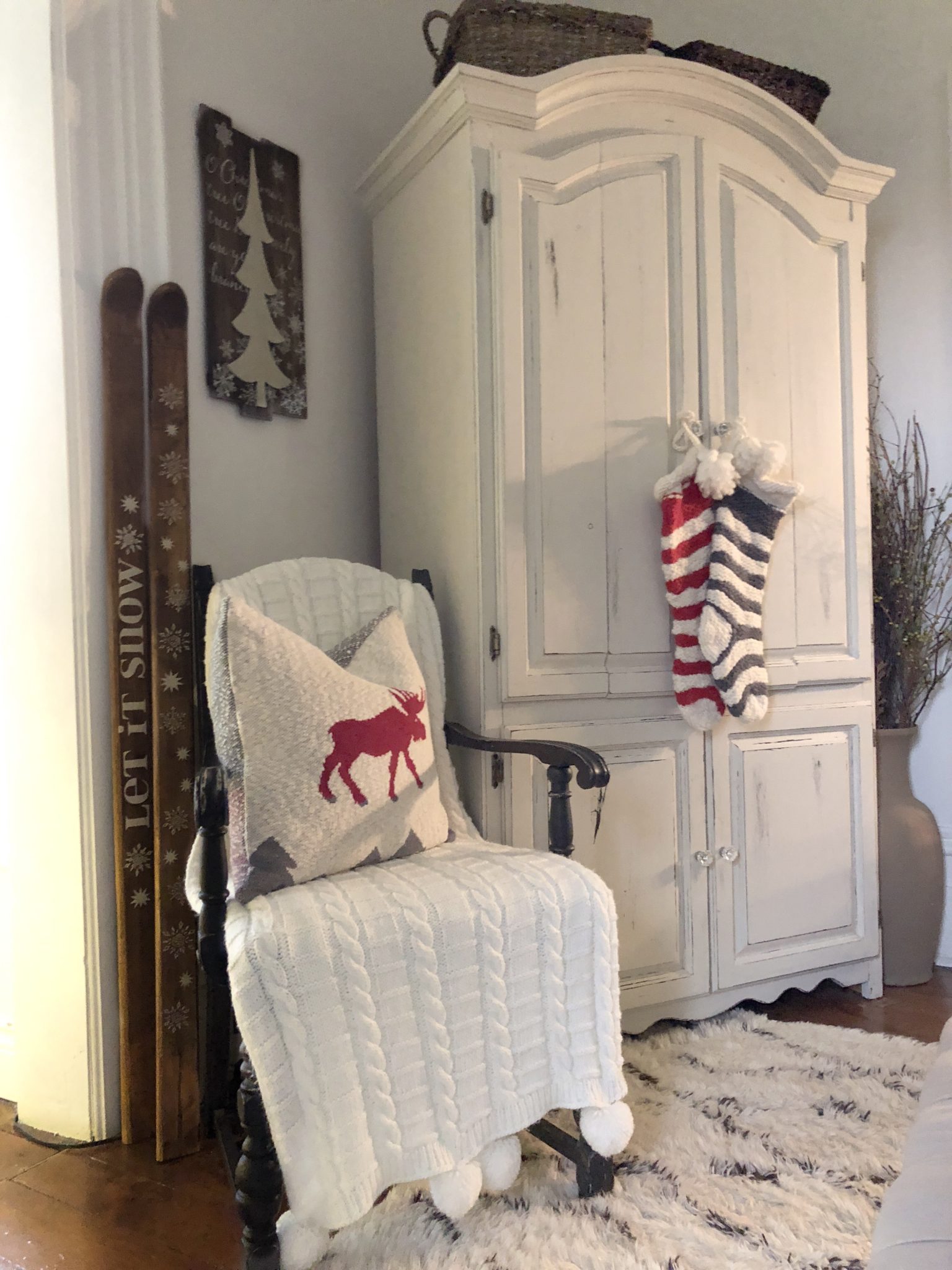 Our old Century Farmhouse is usually busy with family during the holiday season, but this year I'm hosting my extended side… which means every chair will be filled and the house will be vibrating with laughter and festive energy (not to mention, heat!)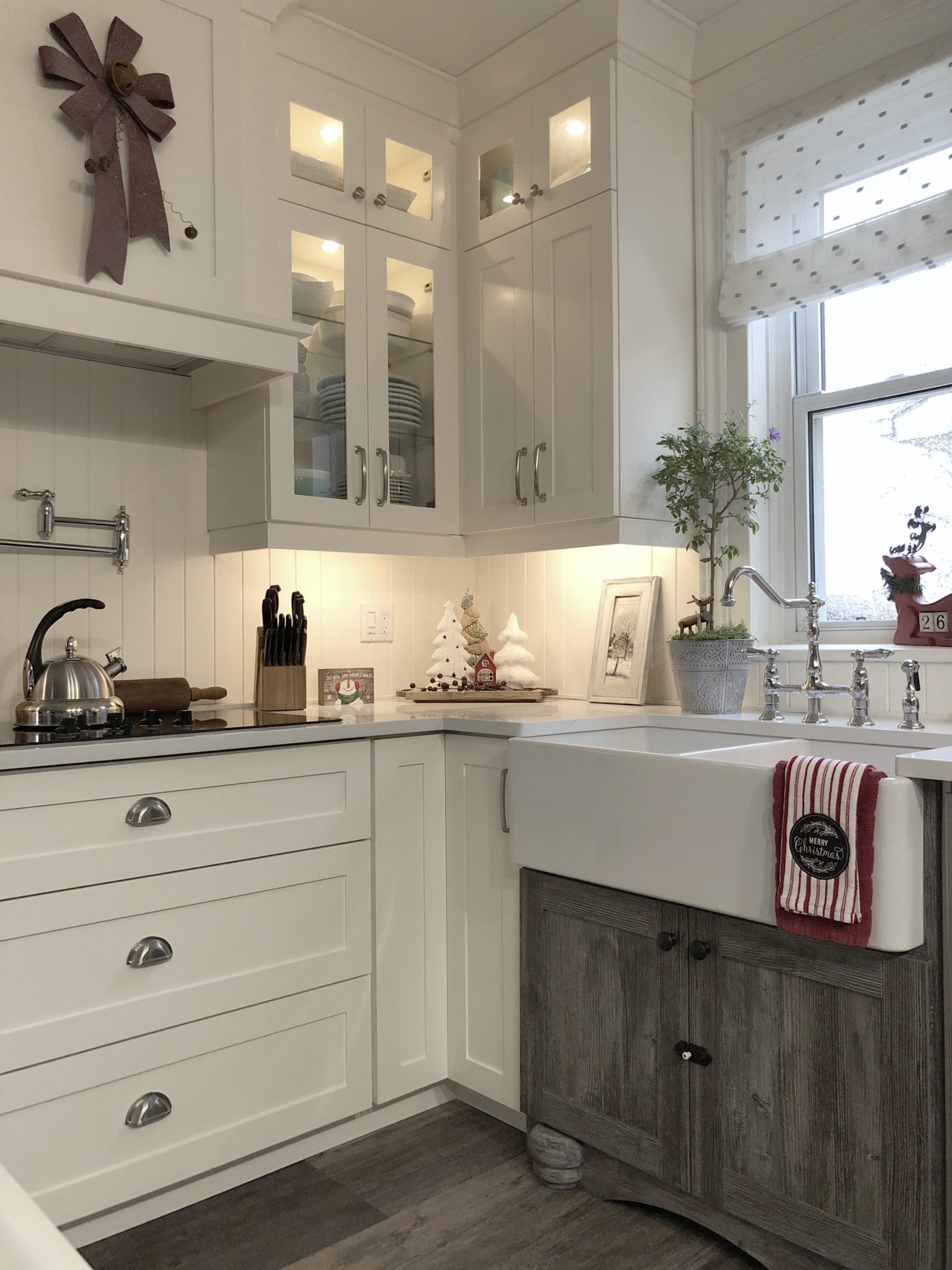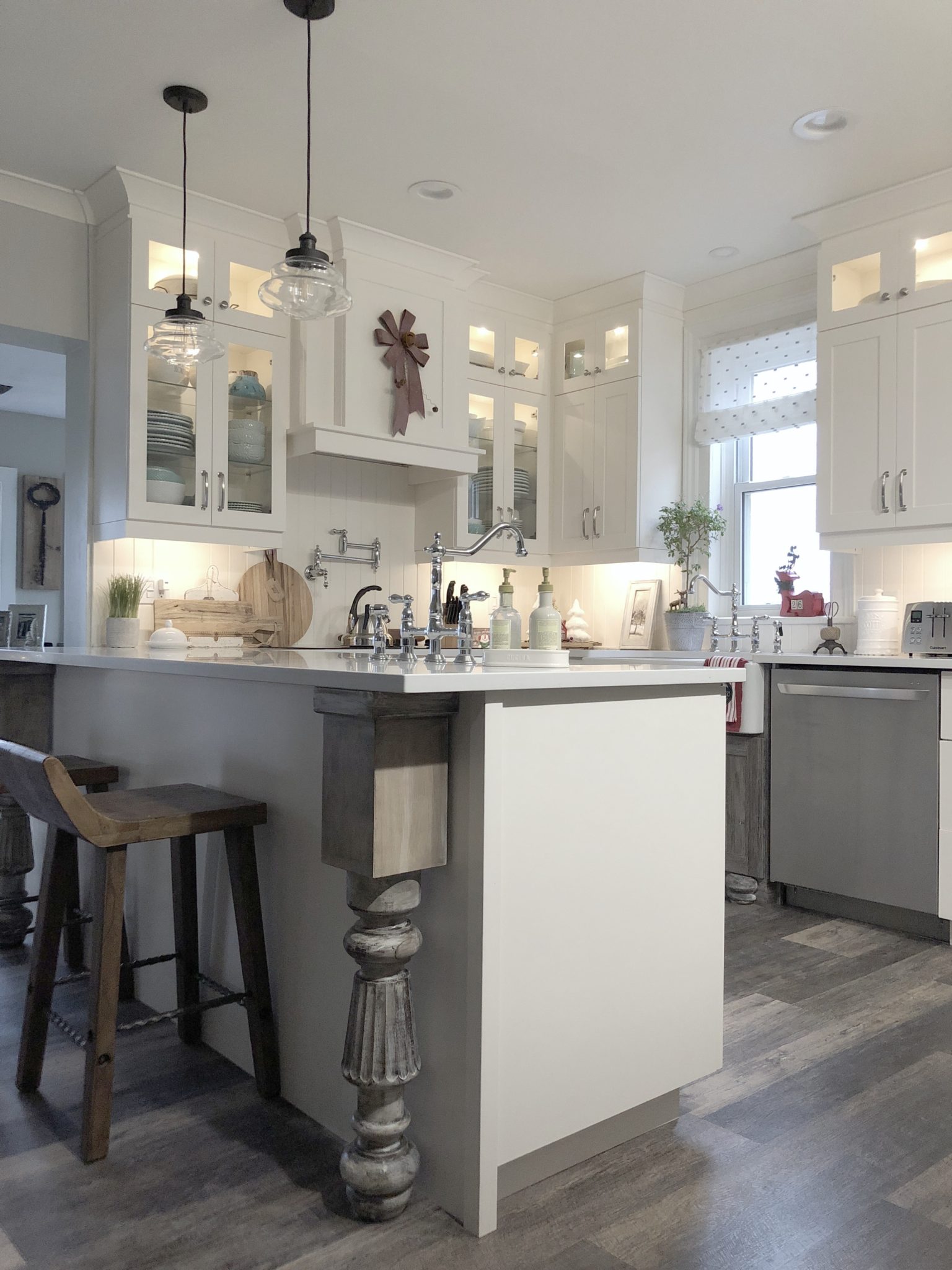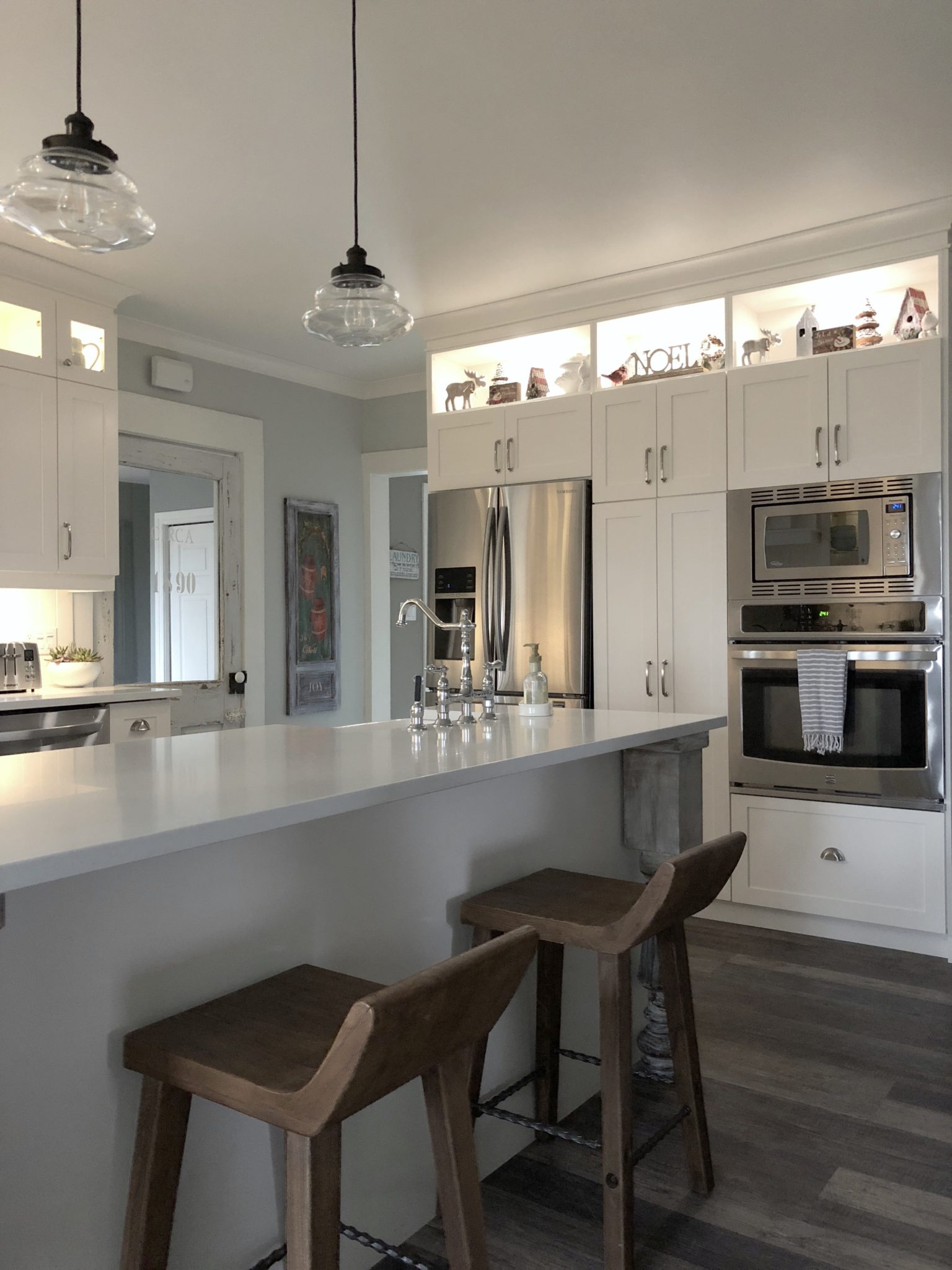 To me, this is what this season is about: that time you get to spend with family all gathered around a table, talking and laughing, and just sharing.  With the grandbabies old enough to get excited, this Christmas will be that much more special.  Little hands and chubby cheeks… be still my heart.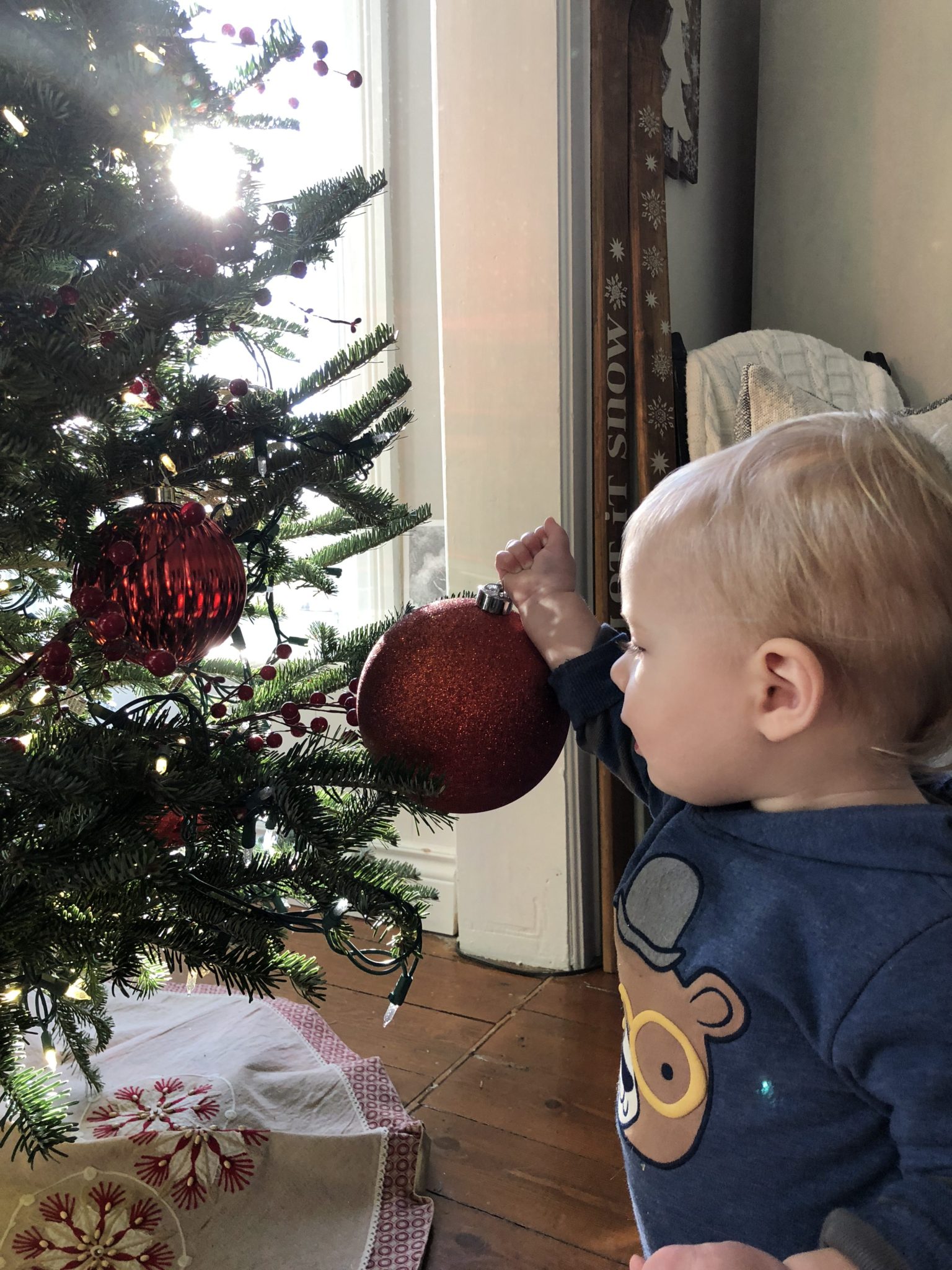 When it comes to Christmas decorating, I usually like to dedicate my creativity to one room at a time. For this tour,why don't we start in the farmhouse living room, our main living space.  This room has our main tree, and our century home has the perfect little alcove for it.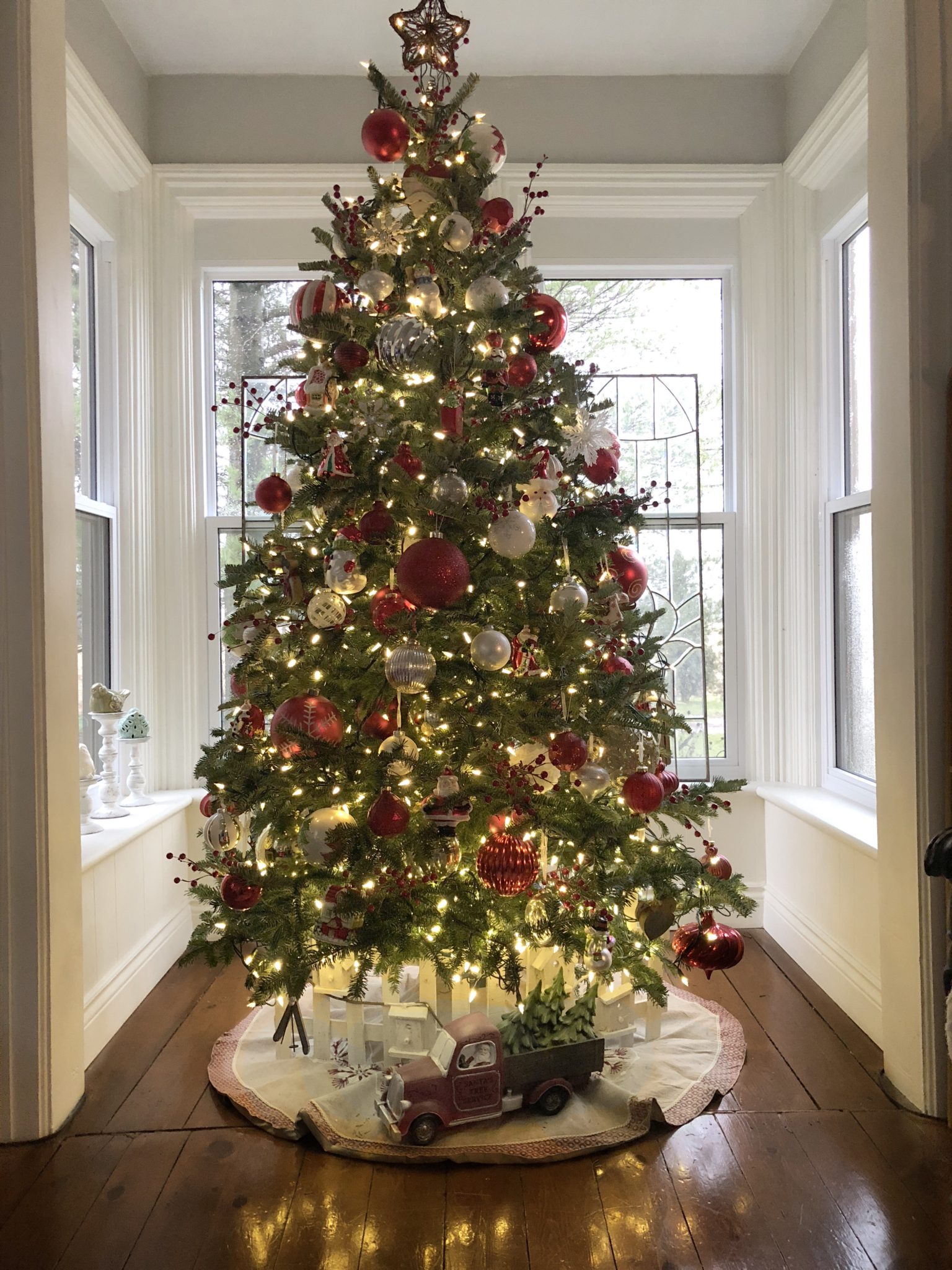 We always do a real tree here, and use decorations that have been used year after year.  When decorating the tree, I always put the lights on first.  I like lots of glimmer, so I use about 2000 lights.  I weave them in and out of the branches to create some depth to the glow.  I also really like using some red berries.  I just stick them in between the branches and find that they add such a pretty touch and let me fill in some of the gaps that are unfortunately prevalent in a real tree.  I also really like the big ornaments to help with this. After those essential bits, it's filling the tree with those pieces that evoke memories.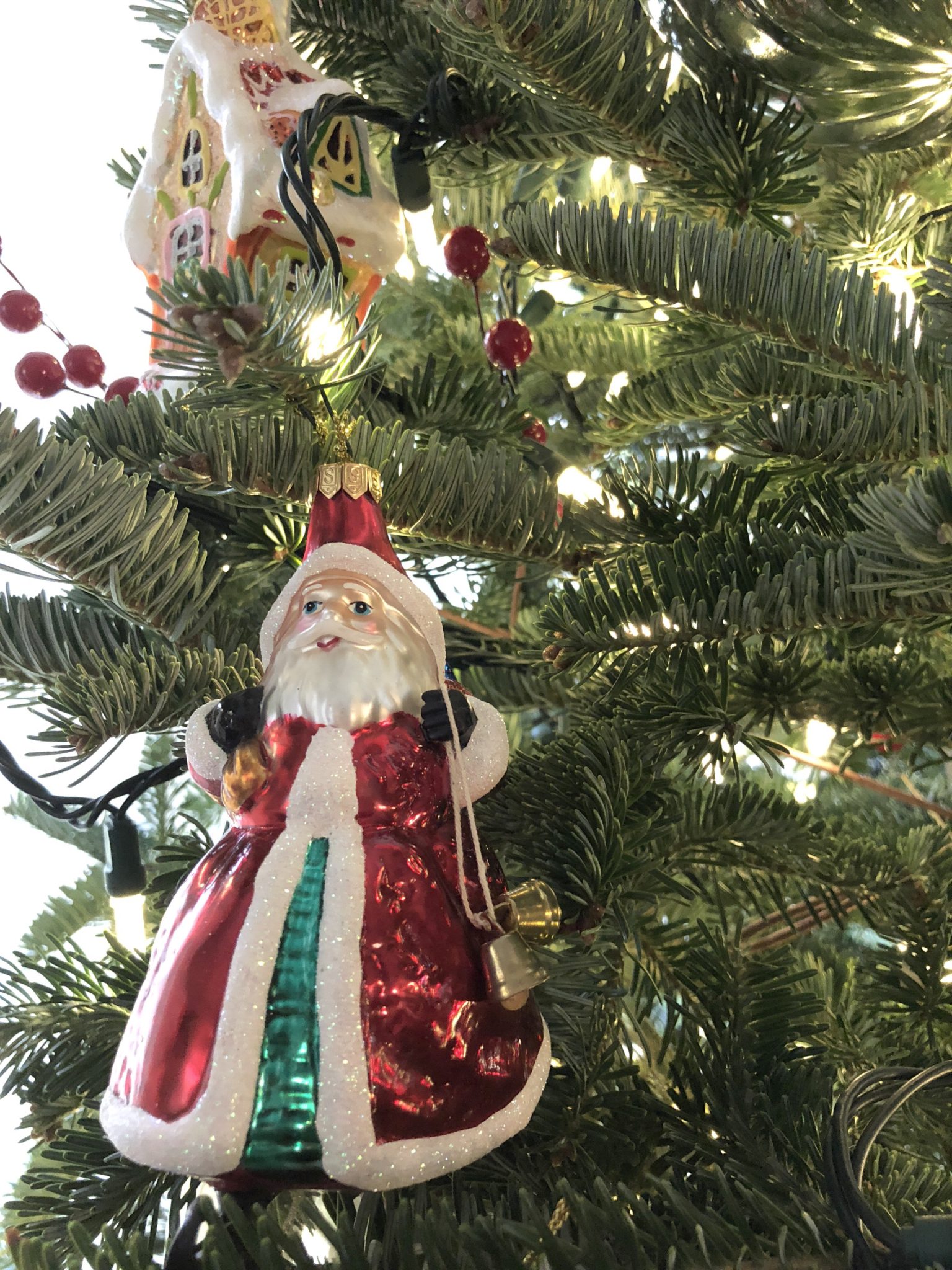 The antique ornaments were mostly bought for me as gifts, and quite a few that have been passed down that I truly treasure since Mom passed away.
For the hallway, I decided I would add a very simple garland to the stairs with some small lights. With little ones in the house this year, I thought it was the way to go.  I'm really enjoying the simplicity of it!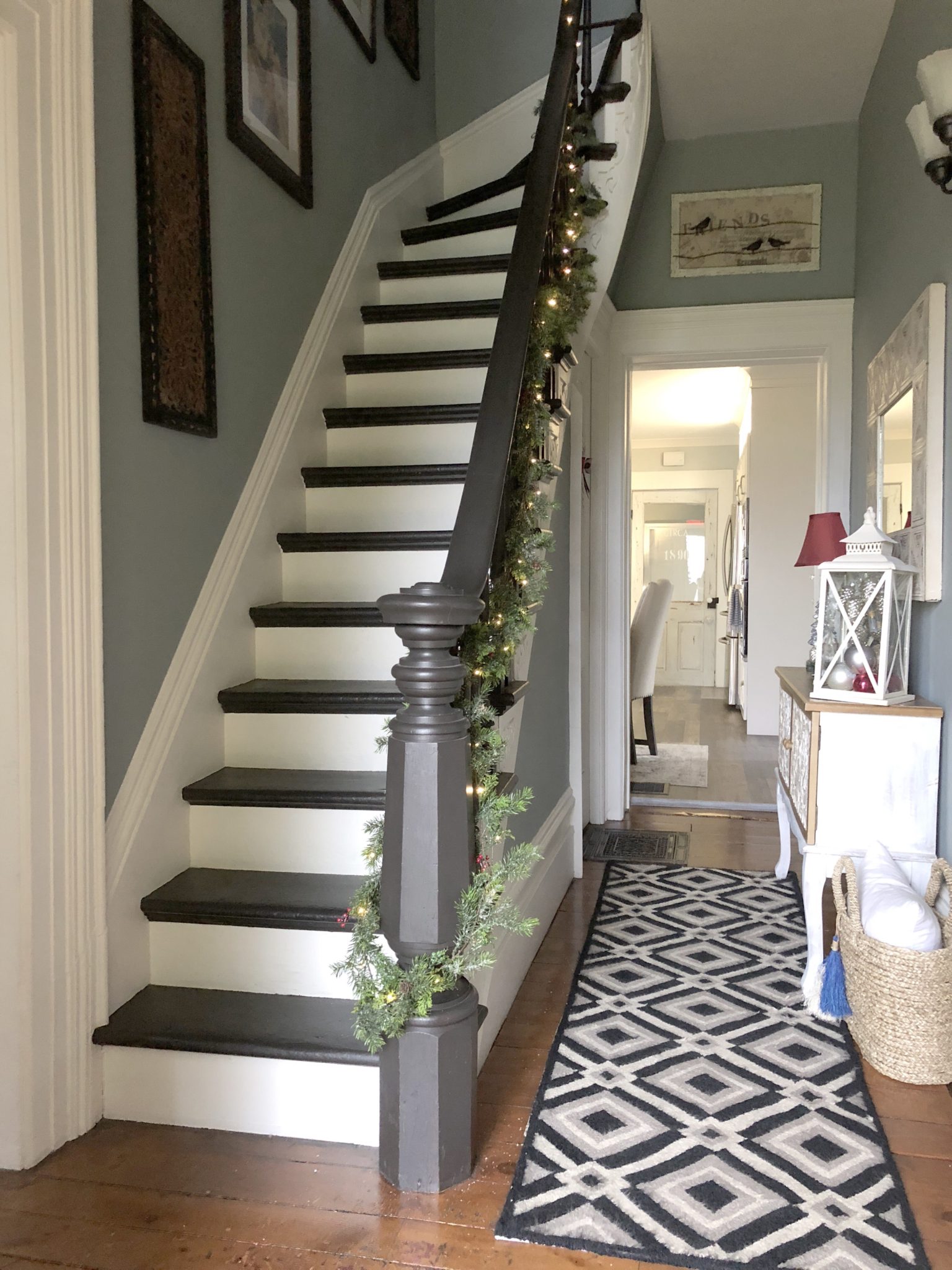 The console table holds some of my christmas trees, (have I told you I have a bit of a thing for Christmas trees?)When my sister came by to help me decorate, we thought we would have some fun with the hall lantern, so we hung some silver pine cones and added some ornaments with some mini lights.
Now onto the dining room.  I did my first ever Christmas mantle in this house this year!  My sister helped me and we had a lot of fun putting it together.  Needless to say, there might have been some coffee and baileys involved, and possibly some very loud christmas music accompanied by some out of key singing…  I also added a 7′ skinny tree to the space.  This was the very first time I'd ever used a faux tree, and amazingly it took me all of 5 minutes to put up!  I balanced the stand on a basket, zip tied it in place, and covered it with a blanket to get the extra height I needed.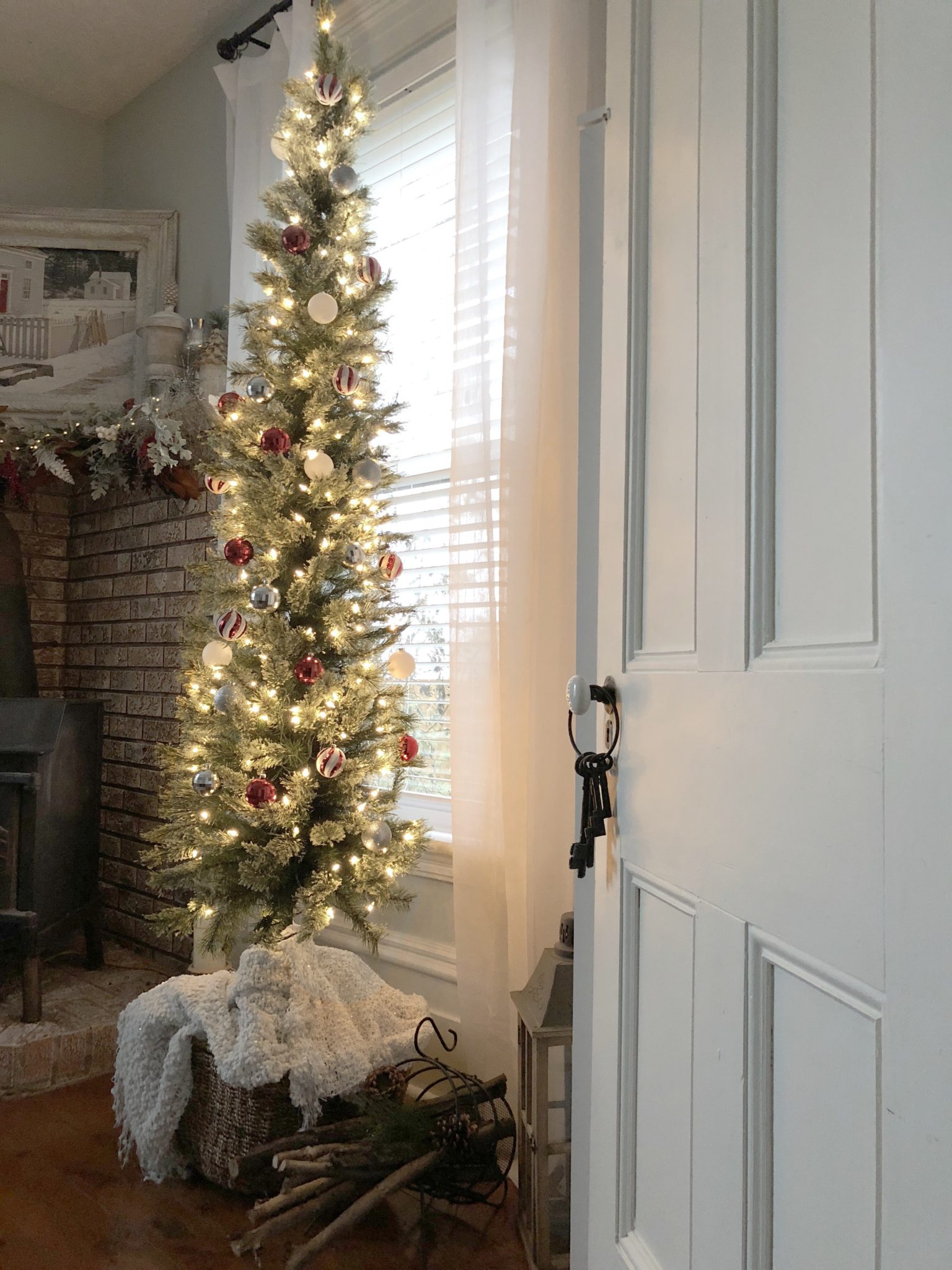 In the sunroom I added a small Christmas tree and a larger floor one and a couple of small decor pieces.  I also added some soft pillows and a throw.  The new carpet from Richclassdecor which I've linked here https://richclassdecor.com/collections/nordic-collection/products/nordic-granite-rug-1   has added a nice farm house feel to this room and I think a little bit of coziness!  Keeping this room simple is important as the view is what I like to see.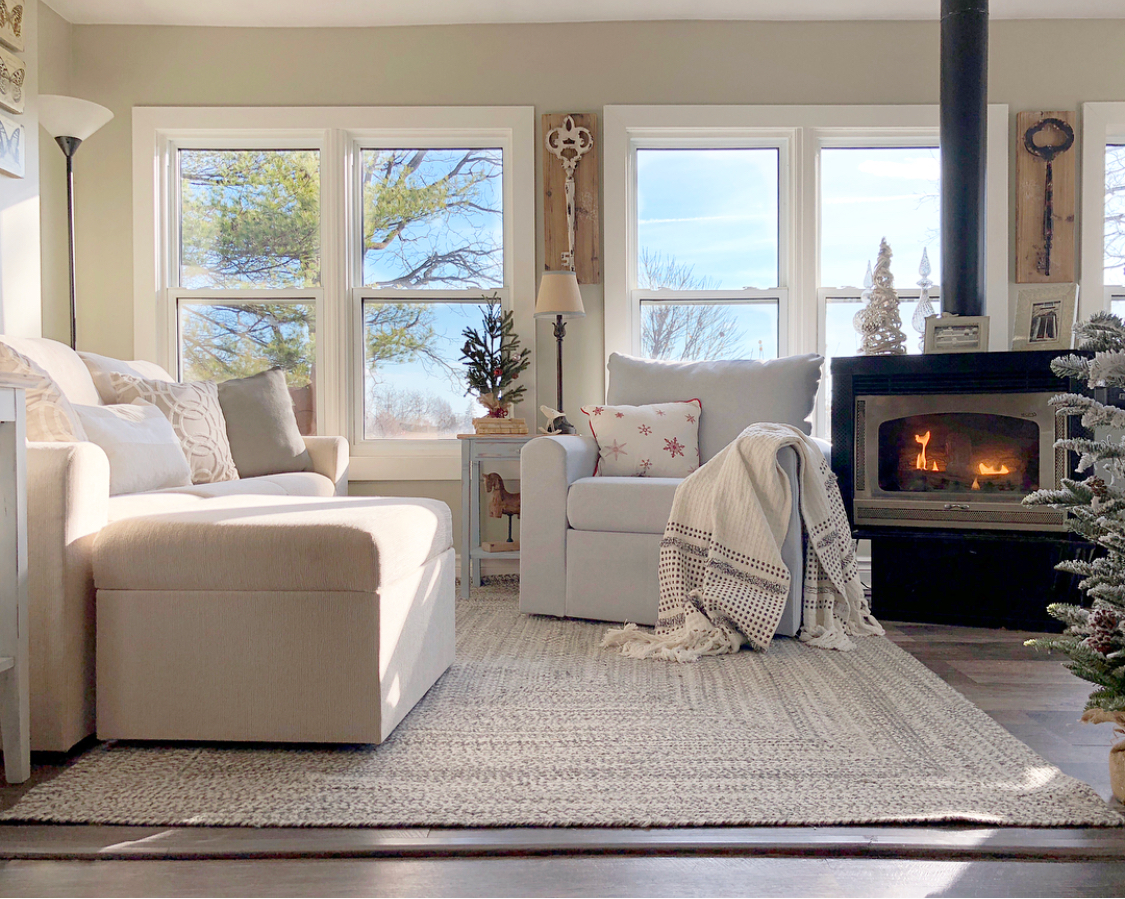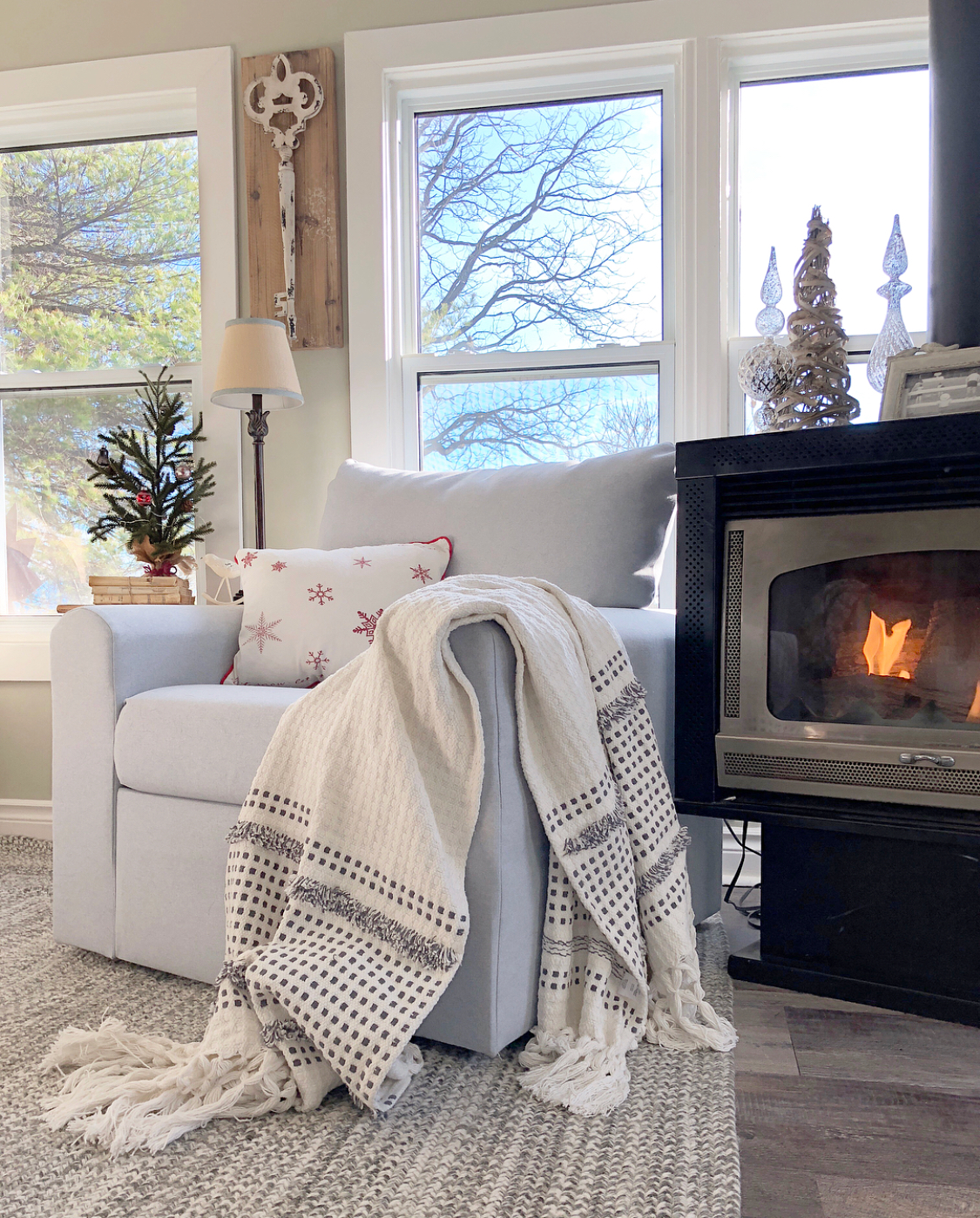 Even the farmhouse bedrooms got a little Christmas Cheer this year.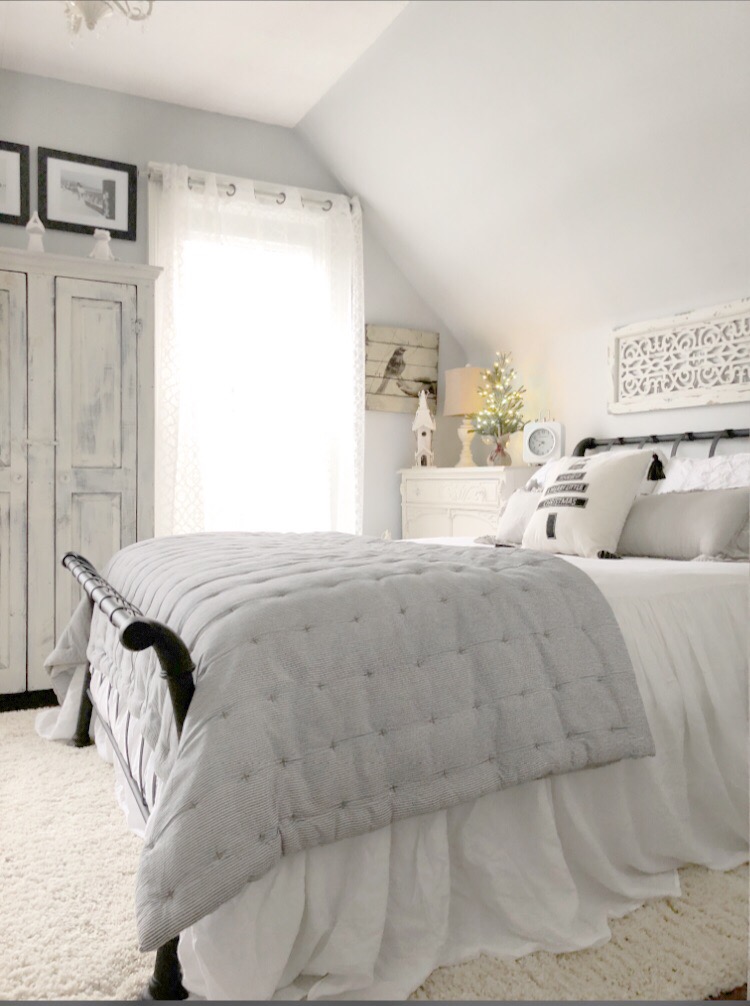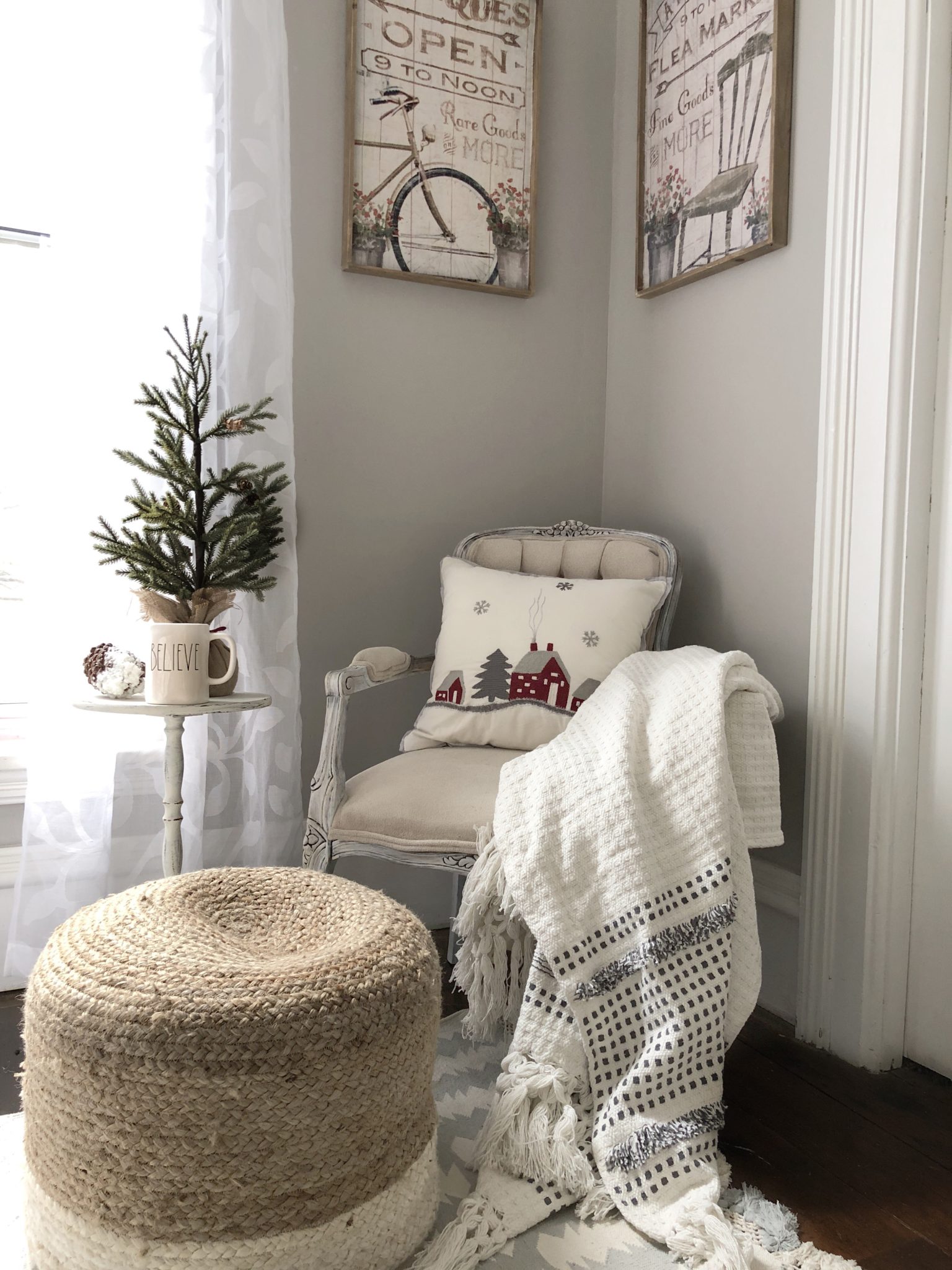 Can I say that I'm done decorating…? lol, nope… but here is my Old Farmhouse Christmas decor so far.  If you're anything like me, the tweaking will continue until it all gets put away!
And last but not least, a little night time magic…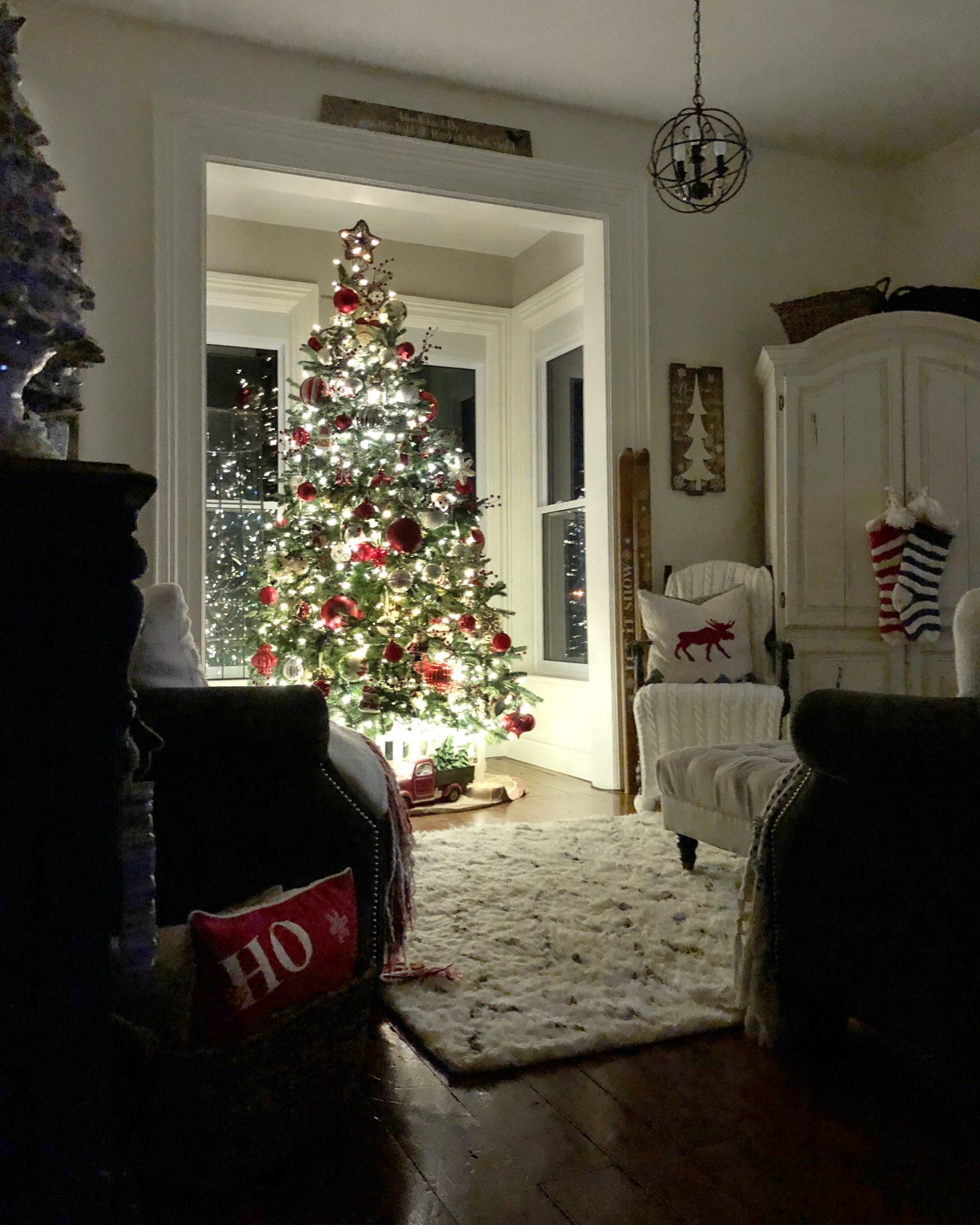 I hope you enjoyed the tour! Please be sure to go on by and check out the other amazing ladies on this tour.  I've linked them below.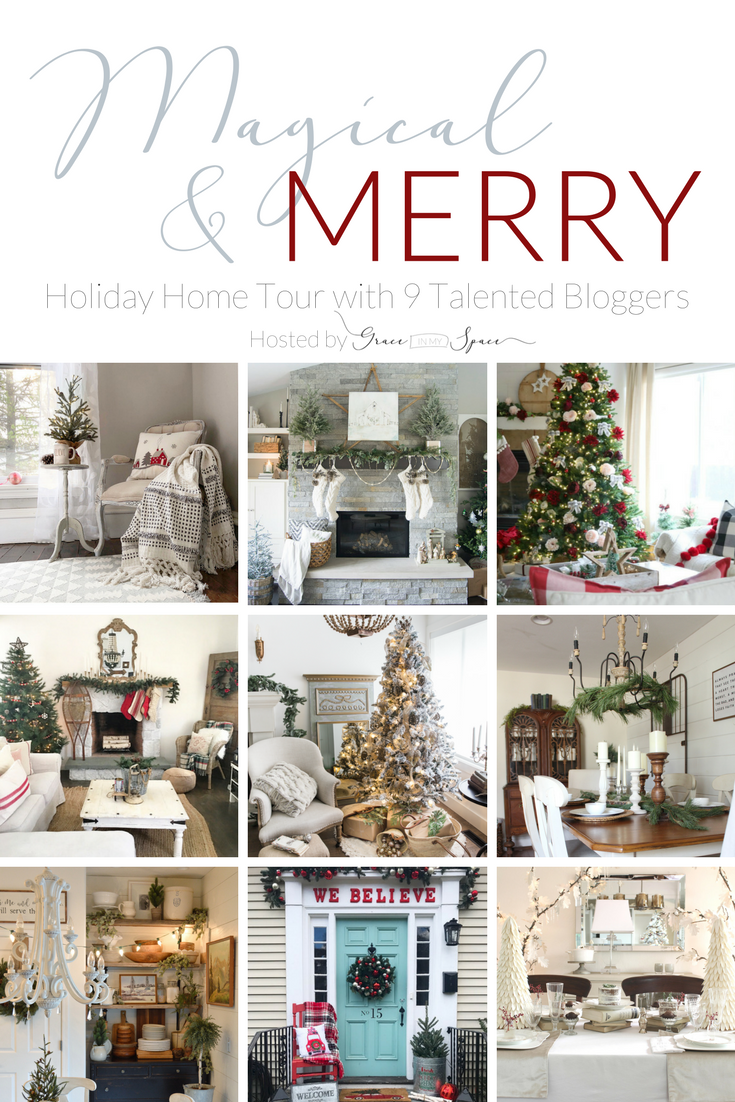 Please go and check out these wonderfully talented ladies:
Magical & Merry Holiday Home Tour
Brought to you by:
The Belmont Ranch | The Design Twins | Designs by Karan | Grace In My Space | Happy Happy Nester | Jor Decor | The Little White Farmhouse | My Vintage Porch | So Much Better With Age
Have a wonderful Weekend,
Karan
xxox